SendHub for
Salesforce SMS
Now Available on the Salesforce AppExchange
SendHub for Salesforce SMS Integration
With access to SendHub's SMS Integration with Salesforce, your Salesforce admin can unleash the power of text messaging right within the platform you use every day. Get in touch with our sales team today and get SendHub's Salesforce SMS app installed from the Salesforce AppExchange today.
Send and Receive SMS from Salesforce
Make it easy for your team to send SMS from salesforce and receive responses, and fast! Get more responses with SMS from your Salesforce leads, contacts, opportunities, campaigns, and cases. Text one-on-one or one-to-many.
Salesforce SMS Service
SendHub is headquartered right here in Pleasanton, California. We have dedicated SendHub team members across the US and even in India who are here to help you.
Example Use Cases
Allow your sales team to reach out to customers and leads with SMS and have their conversations tracked within your Salesforce activity. Get more inbound support inquiries via SMS and automate your SMS marketing campaigns with Salesforce's process builder.
Find SendHub in Salesforce's AppExchange and simply click "Get It Now" to Install SendHub for Salesforce SMS. Once you get it installed, give us a call at 844-SENDHUB, that's 844-736-3482 and press 1 for Sales and we'll be glad to schedule a time to help you get it implemented on your Salesforce organization.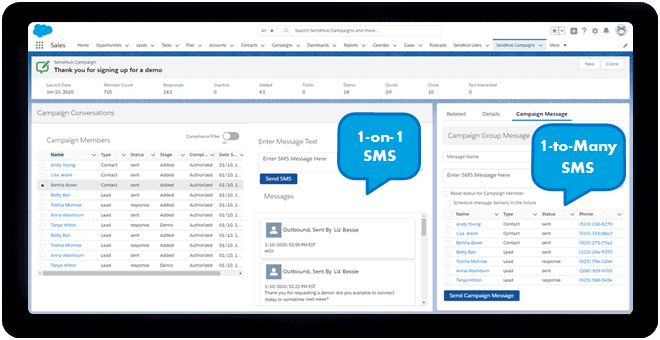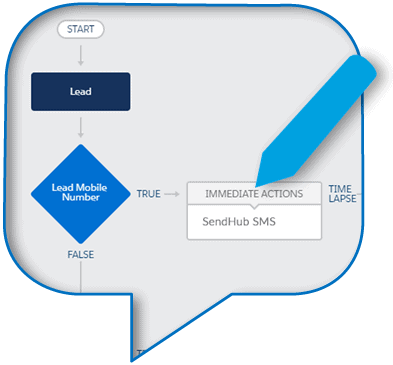 SendHub for Salesforce SMS Automation
Automate inbound and outbound messages through workflow rules, process builder and Apex triggers. Have all messages mapped to the appropriate Salesforce records for seamless communication including conversation history right within your activity.
If you are really looking to grow and provide quality follow up in the easiest possible manner, then SendHub is your answer. It makes our jobs 100 times easier and has been a real game-changer. No smoke being blown here!

SendHub is the best business SMS and voice solution on the market. They offer SMS, MMS, and voice (not always the case with other solutions!). They have a great customer support, and also have a great API that allows custom programming.

"We are a small business that has been using SendHub for years and are very satisfied! Technology has significantly changed the way our customer base communicates with us and being able o not only text, but have a saved log of all written communication solves multiple problems and greatly saves us time."

"It's a great way to communicate with church staff and volunteers as well as members. It allows us to easily send out church announcements and have it read, unlike emails that never get read. Our members can easily reach out via SMS to communicate one-on-one and we can respond very easily."
Want to get started with SendHub for Salesforce SMS? Great, we are ready to walk you through this every step of the way. Join now and receive your first month absolutely free.
*Free month includes 1 month of our Lite plan and the Appexchange fee. Some terms apply.