Effortless SMS for Business with SendHub's API and Out-of-the-Box Tools
SMS for Business with SendHub's API and Out-of-the-Box Tools
Business Texting Automations and Integrations
Automate, automate, automate!
SendHub's SMS Business Solutions Allow You to Automate Using APIs
In today's age, automation is key to marketing. Marketers want to set something up and watch it work it's magic on its own without having to be inconvenienced. With SendHub business texting, marketers can set up their triggers and watch the text messages get delivered to the right people at the right time, all automatically.
SendHub offers API access on all of our business SMS plans. SendHub's SMS business solutions make it easy for you to integrate your software with ours. Build out your own custom integrations or find us on Zapier. Either way, find more information by visiting www.sendhub.com/developer and finding links to other related API information there.
Don't have time to build your own custom business texting integration with the software that is important to you? No problem. We are available on Zapier where you can click to integrate with over 1500 other platforms! Trigger automated text messages with data from your other software platforms, such as your CRM.
The SendHub API allows you to automate functions such as sending business text messages, adding your contacts or editing your groups.
Want to set up an automation that will automatically text your clients their ongoing appointment reminders? Do it with SendHub's API. There are many different use cases for business texting automations. Talk to our sales team today to explore what automated text messages you should already be sending.
All SendHub plans come with a given amount of API calls. Depending on the plan, some have more API calls than others. Each time your software sends a request to SendHub to perform an action, like sending a text message, it will count as one call. 
Be sure to discuss API with your sales representative if you plan to setting up any automations to make sure you have enough API calls included on your plan. Please contact sales by calling 844-990-4400 and press 1 for Sales. You can also email at [email protected].
Personalize Your Business SMS Messages with the Simply Awesome MergeWiz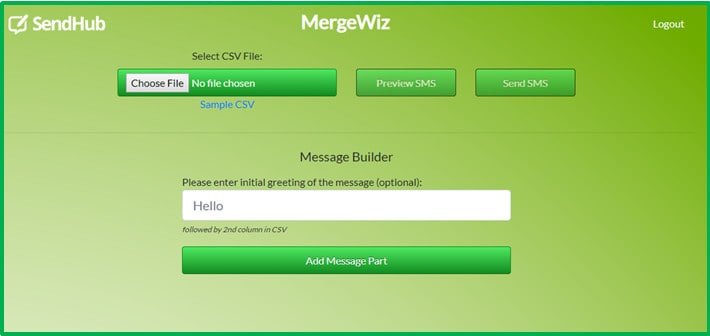 The MergeWiz allows you to create personalized bulk SMS messages with data merged from a CSV formatted file. It all sends with one click of a button while having the content to each individual being personalized with their name or whatever custom field data you choose.
Want to get really fancy? SendHub's business SMS solutions allow you to merge several fields within your text message. For example, you could text the following out in one text message to thousands of people at once, "Hi [FIRST NAME], Your order number [ORDER NUMBER] will be ready for pick up at [PICK UP TIME] at [STORE LOCATION] on [PICK UP DATE]. This text message could be sent out to one our thousands at once with SendHub's MergeWiz. You can include any number of custom fields with MergeWiz. This particular message example has five custom fields of data including first name, order number, pick up time, store location, and pick up date. All of this data would come from your .CSV list.
Watch Your List Grow with Your Website Visitors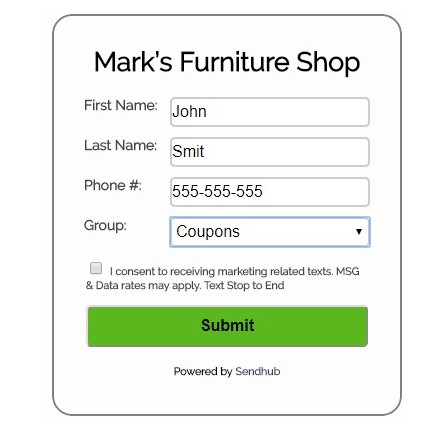 Business SMS marketing campaigns are known for their effectiveness. With an average open rate of 98% and over 90% read in the first three minutes, it explains the extraordinary results. Text messaging has an average 45% response rate compared to email that only has an average response rate of 6%. So the big question becomes, how do I grow my SMS subscriber list?
SendHub's Join Widget can help!  SendHub's Join Widget is a small snippet of code that can be put directly on your web site in order for your customers to be able to sign-up and opt-in for your bulk SMS marketing campaigns. The widget's embed code will allow you to put a button(s) on your web site that your customers will be able to click and then fill in their information.
If you are looking to engage your customers through business texting, SendHub's Join Widget is perfect for allowing your customers an easy way to sign up from your website. After your customers sign up, it's easy to send a message to the whole group via SendHub's API, website or mobile apps. 
Setting up business texting automations has never been easier!