What is Follow Up Boss?
Follow Up Boss is a real estate CRM (Customer Relationship Management) software that allows you to organize, convert and track leads all within one simple system. This means that you can respond to clients faster, engage in more follow-up conversations with leads and keep your agents accountable throughout the sales process.
Benefits of SendHub's Follow Up Boss Texting Integration
SendHub's Follow Up Boss texting integration makes real estate lead capturing and marketing easy. Here are some of key benefits of integrating SendHub's text messaging into your Follow Up Boss strategy:
Send Bulk SMS
Bulk SMS has the highest open rate of 98% among all the communication methods. This makes it the most effective way to engage and interact with customers and prospects. And with about 90% of bulk SMS messages read within the first 3 seconds of being delivered, it proves to be a great way to get messages across to your target audience. Whether you're reminding clients about an upcoming open-house or looking to promote a new home on the market, bulk SMS helps real estate agents ensure their message gets delivered and read quickly. Send personalized real estate bulk SMS messages to hundreds of customers to save your team manual labor and valuable time.
Whether you operate a start-up real estate business or work at an enterprise brokerage firm, we want to support your business communication needs. From reaching out to 10 customers to over 100, SendHub's bulk SMS is built to scale and help your business grow.
Personalize Messages with Merge Fields
When sending out bulk SMS to a larger list of contacts, it's important to customize your message to be engaging. Personalization is key. People want authenticity. This is why using merge fields to your advantage for bulk message personalization is essential. From the client's name to the date of an open-house appointment, you'll be able to include details in a scalable way in your text to make it feel extra personalized to your audience. Realtors will be able to utilize merge fields to increase response rates and foster healthy relationships with existing clientele.
Automate Text Messaging Drip Campaigns with Follow Up Boss' Action Plans
SendHub's out-of-the-box integration allows you to automate tasks based on Follow Up Boss' Action Plans. Realtors can use Follow Up Boss' Action Plans to automatically send an initial text message to a new lead or send drip SMS messages to prospects and clients. Drip campaigns allow you to send a series of automated and triggered messages to your contacts depending on where they are in the sales cycle.
Below is an example of how you can create and edit an Action Plan within Follow Up Boss.
First, you'll want to name your Action Plan.
Then, you'll have the option to customize your text message task with a template or merge fields.
Continue adding steps to your Action Plan until you're ready to save and run it. It's that simple!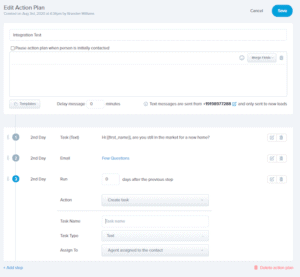 Automating these actions saves you time and the hassle of manually going through daily notifications and tasks. With our integration in place, your dashboard could look like this – no overdue tasks!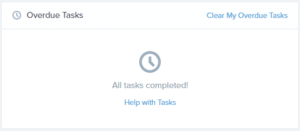 Get Started Today!
SendHub's Follow Up Boss texting integration brings greater automation, efficiency and productivity to your real estate business communications. It allows real estate agents to have a more consistent line of communication with clients and leads, thereby losing less prospects and driving more sales. Let us help you integrate our SMS platform with Follow Up Boss' CRM software! Work with our API Specialists to see that your information flows seamlessly between the two apps.
Don't have an efficient platform that helps you automate your SMS campaigns? Get started with SendHub today! Set up your SendHub account and talk to our team about SMS API integration services.